Constant Volume Water-Cooled Horizontal Water Source Heat Pump 50PCH
Carrier (WSHP) »
Constant Volume Water-Cooled Horizontal Water Source Heat Pump 50PCH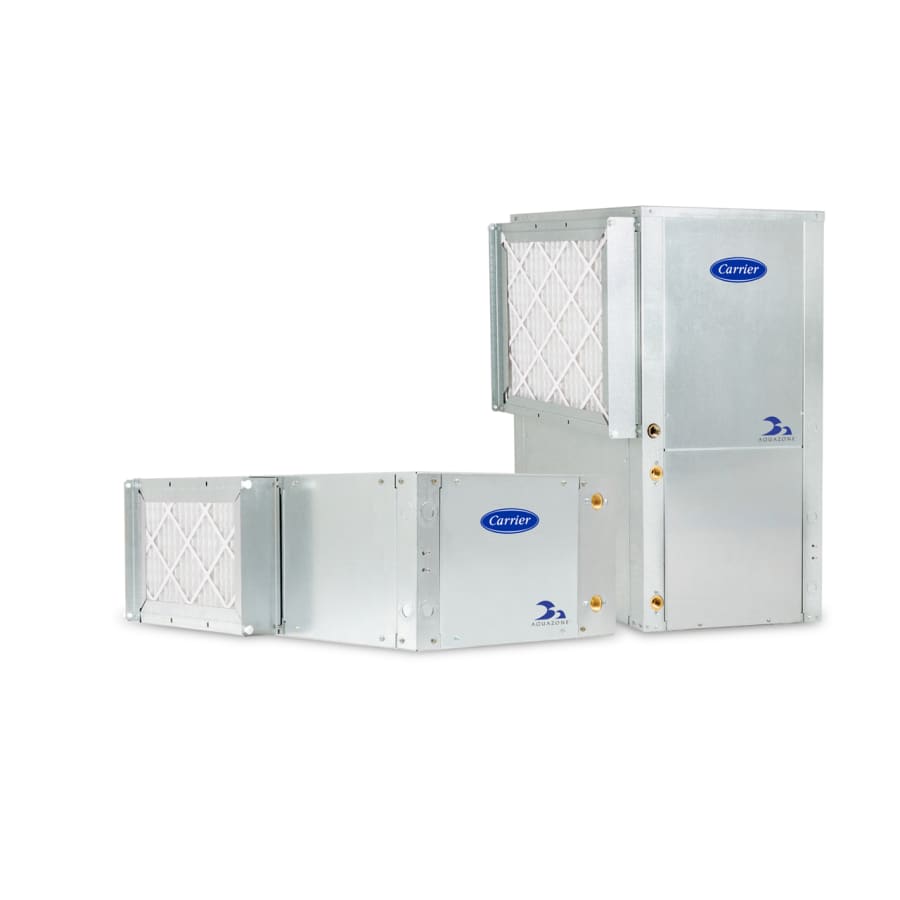 Constant Volume Water-Cooled Horizontal Water Source Heat Pump 50PCH
with Puron® Refrigerant (R-410a)
1/2 to 6 Nominal Tons

The 50PCH indoor water-cooled heat pump unit with Puron® refrigerant is designed for horizontal installation with a variety of airflow configurations. The unit's compact footprint allows for easy installation where space is a concern. The 50PCH unit provides a practical and economical approach for comfort conditioning requirements in renovation applications and in new construction. The 50PCH unit can be used in both traditional and geothermal applications and is also ideally suited for geothermal LEED®1 certification driven projects.
EERs up to 17.7
Non-ozone depleting Puron® refrigerant (R-410A)
Capacities of 1/2 to 6 tons
Standard PSC (permanent split capacitor) blower motor or optional constant torque ECM (Electronically Commutated Motor) available
Rotary compressor (007-015), reciprocating compressor (018-042) and scroll compressor (048-070)
Water loop (boiler/tower and ground loop/water) application use with operating temperature range of 50° to 100° F. Optional extended range package available with range of 25° F to 110° F.
Fully insulated unit with acoustic type insulation
Mute package available for quiet operation
Complete C and Deluxe D controls available with DDC options
Performance monitor equipped
Copper or cupronickel heat exchanger
MERV 8 and MERV 13 filters available
Hot gas reheat and/or hot gas bypass available
Waterside economizer available
Electrical disconnect available
Exceeds ASHRAE 90.1 performance requirements
Rated in accordance with ARI/ISO 13256-1
Three service panels for servicing compressor section
All service may be done through large removable front or side panels
Blower housing can be serviced without disconnecting ductwork
Easy removal of control box for access to all refrigerant components
Refrigerant circuit equipped with high/low pressure ports
No tools required to change filters
Standard 1-in. filter
Compact footprint
Units may be mounted in ceilings, closets, attics, etc.
Ducted or free return connections
All units pre-wired and factory charged with refrigerant
Horizontal units include factory-installed hanger isolation brackets
Water and condensate connections are FPT and secured to cabinet
Single point electrical connection
Galvanized steel construction
Stainless steel, coated, and insulated condensate pan
Tin-Electro-Plated Copper Tubing /w Aluminum Fin coils available for corrosive environments
Reversing valve (4-way), water-to-refrigerant coaxial coil, and enhanced aluminum fin/rifled copper tube air-to-refrigerant heat exchanger
Microprocessor control with DDC (Direct Digital Controls) options
UL and CSA certified
One year parts on all other parts
Factory-Installed Options
Extended range package
Mute package
Complete C and Deluxe D controls
Copper or cupronickel heat exchanger
Tin-Electro-Plated Copper Tubing /w Aluminum Fin coils
Constant torque ECM
Hot gas reheat
Hot gas bypass
MERV 8 or MERV 13 filters
Electrical disconnect
Waterside economizer
Field-Installed Accessories
Aquazone thermostats
Ball valves, solenoid valves, and Y strainers
Fire rated hoses
Remote sensors
Electric duct heater