Services »
PTAC UNITS NYC
Plans are almost finalized for your commercial space in New York City. You take a glimpse again at the plans for the PTAC units. There will be a ductless cooling and heating system installed near the end of the project. It has promised to not be bulky and to provide temperature flexibility for your business office suites. A PTAC system will give you warmth on chilly winter days and cool on those NYC summer afternoons.

In 1902, Willis Haviland Carrier invented the first modern air conditioning unit and called it PTAC. The first units were specifically designed to improve manufacturing and temperature control in printing plants. Later on, as the demand for air conditioning units arose, Willis expanded to make the residential air conditioners and PTAC units that we know today.

PTAC Units NYC sells the best PTAC units and parts that you need for your new space. We can help you find the right unit for your space and budget. Call us today to find out more.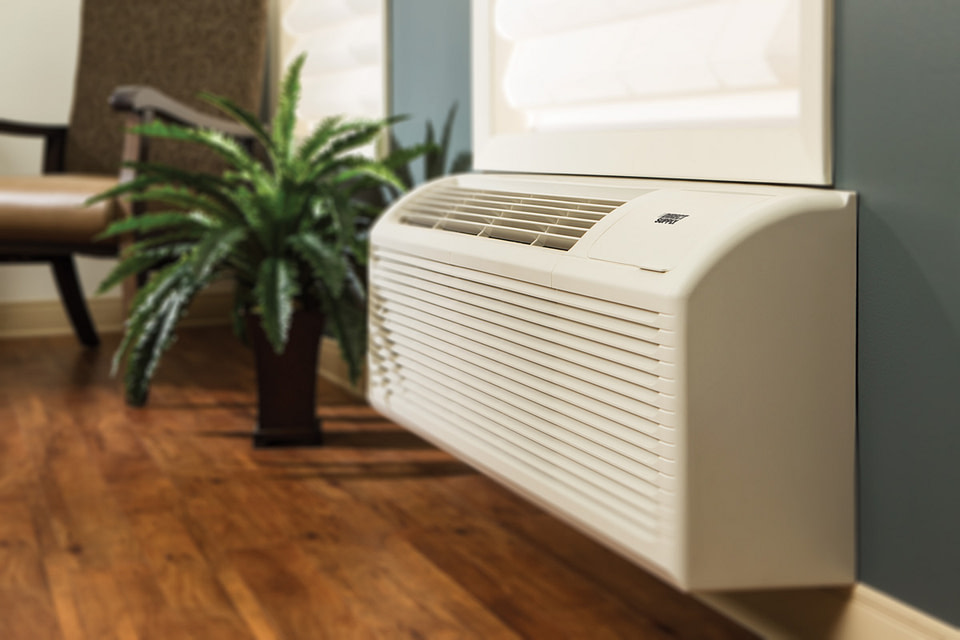 PTAC is an abbreviation for Packaged Terminal Air Conditioner. Sounds big, right? But this a semi-portable ductless heating and air conditioning system unit. It is a two-in-one solution for your temperature control needs in each room. PTAC units are mostly used in apartment buildings, motels, hotels, and office suites. The hospitality industry prefers the PTAC units for the ability to easily cool or heat an individual room.

These cooling and heating units are installed through the wall, usually near a window, by a professional PTAC installer. And its unique process of producing air is amazingly quiet. Let's find out more about how PTAC units work.
The PTAC is a self-contained heating and cooling unit. This means that it doesn't require ductwork and it's much easier to install than central heat and air systems. PTACs work in an enclosed room using electricity and resistive heating or coils. If you want your room cool, the unit compressor will pump refrigerant to cool the coils. This will attract the heat and humidity from the outside. On the other hand, the compressor will do the reverse process if you need to warm the room.

A PTAC unit is semi-portable, but it still requires careful and proper installation. That's why you need help from someone knowledgeable in PTAC installation. PTAC Unit NYC is a leading PTAC service provider in NYC.

We will be happy to assist you with installing your new PTAC units.
2 Types of PTAC Units NYC
The Packaged Terminal Air Conditioners, or PTAC, is classified into 2 general types. This heating and air conditioning unit functions through electricity or heat pumps. And you can identify which system unit is the best fit for your space if you know the characteristics of each type.
PTAC Heat Pump, or PTHP, is best for you if you are concerned about energy efficiency. Heat pumps have a higher upfront cost but provide greater efficiency. If you only need the PTAC to cool your room during summer, then the PTHP is for you.
PTAC Electric Heat, on the other hand, consumes more energy but usually costs less than heat pumps. This option is best for people who want to maximize the use of PTAC and who have the need for use of cooling as much as heating.
Businesses and homeowners prefer using PTAC Units in New York due to the many benefits. If you are wondering what good a PTAC unit can bring to your domestic or commercial space, look at the three main benefits of a packaged terminal air conditioner.

• Quiet Performance- If you are in a hospitality business, you may have to ask first, "Are PTAC units quiet?" And the answer is a cozy yes. PTAC units are much quieter systems compared to other appliances. So, you won't need to worry about a guest complaining about the loud sound of your air conditioner or heater.

• Cost-Effective- You will save money if you are looking for an air conditioner at home. The initial cost of a PTAC unit may be high. However, you will soon find out that this heating and air conditioning is cost-effective and efficient in single rooms. You don't need to buy a separate heater and air conditioner as a PTAC functions in both ways.

• Flexibility- PTAC units are created to be flexible. Depending on your mood, weather, or preference, you can easily switch your PTAC units to 2 modes: heat or cool. Control your temperature to meet your needs with PTAC units in NYC.
Find the best PTAC services near you. You are on the right page. Here's are some of the services that our professional team offers.

1. PTAC Installation- Do you need a new PTAC for your space? We are your installation experts.

2. PTAC Repair- Do you have an emergency PTAC repair need in NYC? PTAC repair is our specialty.

3. PTAC Replacement- Is your old PTAC unit not serving you anymore? It's time for a replacement from our experienced team.

4. PTAC Heat Pump- Do you need a more energy-efficient PTAC unit? Our PTAC Heat Pump is for you.

5. PTAC Service- Got any more questions for your PTAC unit? Or need some parts for your unit? We are here to give you the peace and comfort you deserve.

Call us today for all your PTAC unit service needs in NYC.
The Best PTAC Units NYC for You
A PTAC unit is undoubtedly a flexible and cost-effective heating and cooling solution for your property. And finding the right PTAC unit can save you more money and time. PTAC Units NYC is the best solution for all your local air conditioning needs.

Our team of experts are ready to give you a hand. We will help you find the best option for your property. Contact us today to get started.
PTAC Units NYC is the New York's Local HVAC company that is all about bringing comfort solutions for our customers.

Our certified and licensed PTAC specialists offer affordable PTAC installation and service across the five boroughs of New York City.

With over 25 years of experience, we have the skills and the equipment to provide exceptional service to each of our customers.

Contact us today for the best PTAC units and highly rated local PTAC services in NYC
PTAC Units NYC is the New York's Local HVAC company that is all about bringing comfort solutions for our customers.

Our certified and licensed PTAC specialists offer affordable PTAC installation and service across the five boroughs of New York City.

With over 25 years of experience, we have the skills and the equipment to provide exceptional service to each of our customers.

Contact us today for the best PTAC units and highly rated local PTAC services in NYC